By description, the Winnebago EKKO is a Class C vehicle. Its rugged and aggressive appearance, however, distinguishes it from any other Class C on the market, making it an excellent choice for someone looking for an appealing, sporty, and tidy camper.
It's built on a Ford all-wheel-drive platform with six hub-centric tires and a full spare wheel. It's also compact, having the same footprint as a minivan. This means it can drive, stop, and park itself everywhere a van can.
Main Features
The Winnebago EKKO comes included with a 320 amp-hour cell that can be controlled through Bluetooth. On the rooftop are three solar modules: two 170-watt panels and an additional 115-watt panel. A 2,000-watt inverter could very well handle all of this power.
In addition, the V6 engine that powers the car has a second 80-amp alternator. This alternator is optimized to keep the battery charged without overheating even at motor idle rates. This implies you could idle the motor to give the batteries a boost if you want.
A standard Cummins Onan QG 2,800i gasoline-powered generator is also aboard. This is so quiet that the National Parks Service has approved it.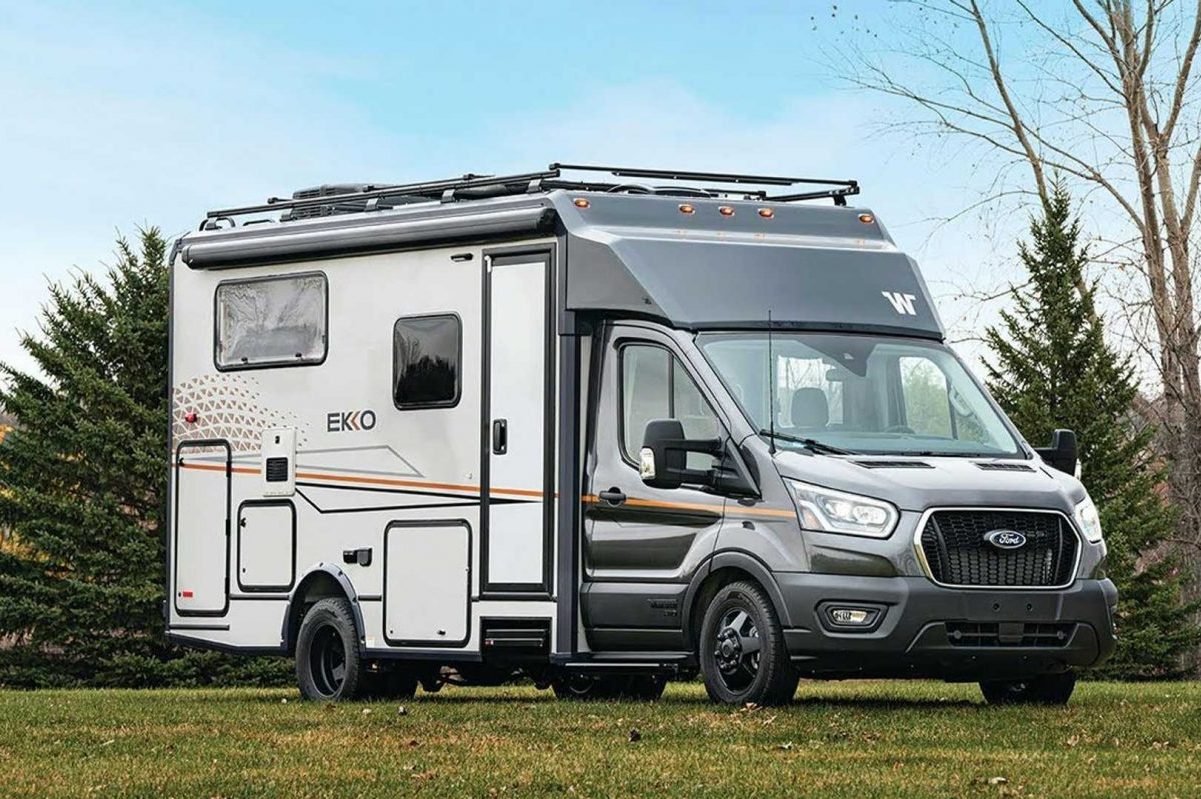 This rig was purposefully built with a cartridge toilet so that you may dump it in a tunnel toilet or conventional outbuilding. This is a significant benefit. Of course, if you're so far away from the grid that neither of these options is available, you could always bring a spare toilet cartridge.
But the holding tank is what really impedes the off-grid pleasure. You only have a large 50-gallon fresh water tank here, so you might not want to go off the grid for too long. Fortunately, the holding tank monitors are not the standard subpar monitors.
Showering and Cooking
When you enter the bathroom, it appears to be a dry bath with a swiveling toilet and a little sink. However, the back wall of the restroom slides away, uncovering the shower.
It's quite clever. The backside of the sink pivoting wall is also water-resistant. This design keeps shower water from getting into the sink and toilet.
In addition, the galley-style kitchen has laminate counters and a propane cooktop. The kitchen, of course, includes a regular microwave and a refrigerator with ice.