East to West, a newer subsidiary of Forest River, focuses on families with its travel trailer collection that features comfortable seating and sleeping configurations. The company's 27K2D model can accommodate up to nine people, making it ideal for a large family that enjoys hosting people over for dinner.
The Interior
When you walk through the front door of the silver aluminum-sided motorhome, you're welcomed by a warm-toned inside with large shaker-style cabinetry and a white swirling countertop.
The dinette, three-seater sofa, and huge windows are all housed in an enormous flush-floor slideout. Underneath the skirt panel of the couch, which converts to a bed, is hidden storage space.
Back cushions with two tones are on opposite ends of the dinette area, and cupboards on roller slides are located beneath the back seats. The patterned brown and gray vinyl floor has no grates, which are set in the paneling to transfer warm air from the furnace.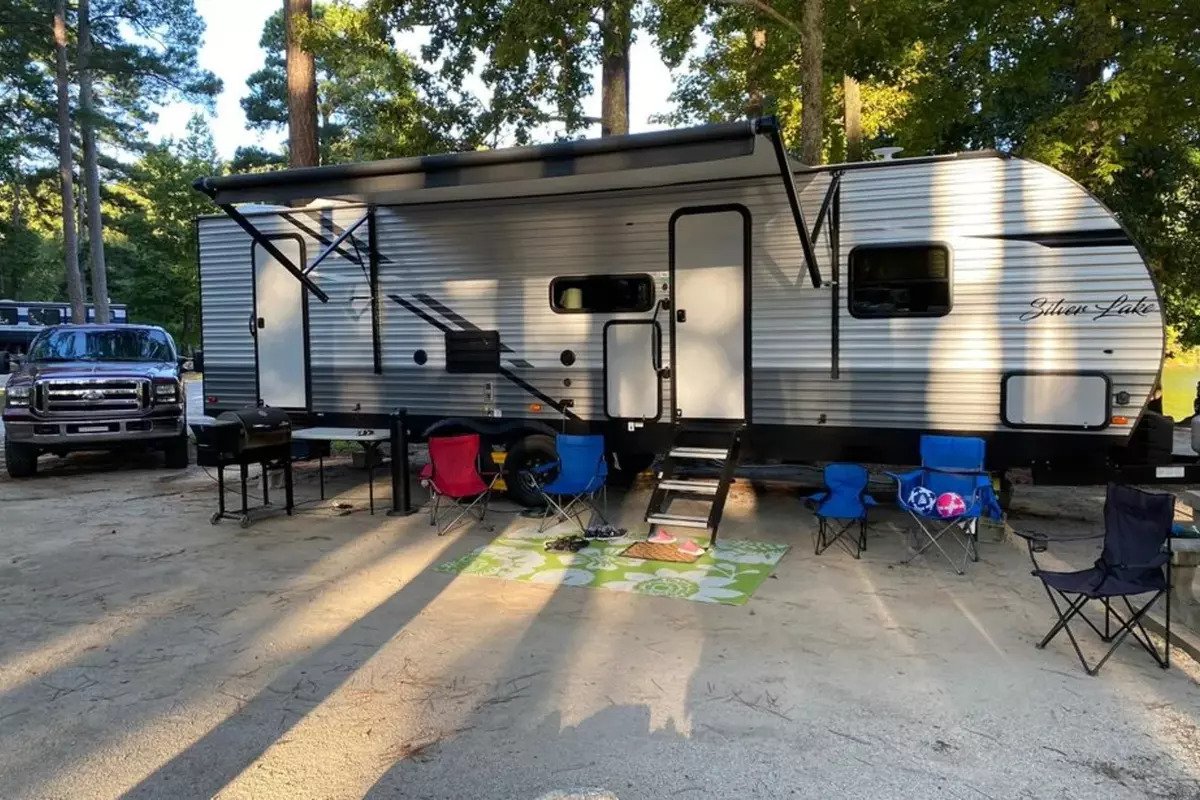 Between the sink and the refrigerator are a microwave, a three-burner stove with a black grate, and a 22-inch oven. A pantry from floor to ceiling can store enough food to satisfy the crowds.
The farmhouse-style sink with a high-rise nozzle is nestled in a continuous counter that allows for stuff to be laid down as you walk into the room. Cutlery slots are located at the back of the drawer. While staring down at the sink, you can see who is approaching the door through the huge kitchen window.
Bathroom and Storage
The bathroom is located at the back of the trailer and has its own access from the side. It has a shower with a bathtub, as well as a large sink, an overhead ceiling fan, and a mirrored cupboard.
Outside, there's a brightly lit pass-through in the front and another roadside compartment reachable from within underneath the bottom sleeper. There's a charging dock with an outdoor hose, as well as public water, radio, and cable connections.
Ultimately, the dual-axle rig has a heated and covered underside, a continuous walkable canopy, and a black-tank drain. The 15-foot motorized awning with lighting systems is ideal for family get-togethers.