It can be scary to take your first step into the RV lifestyle. Some rigs are 45 feet long, with many compartments and a real challenge that may be as tough to navigate as actual road twists and mountainous terrain.
That is why we are here to show you this rig for those who are just starting out in RV living. This bunkhouse travel trailer is an excellent starting point for someone new to RVing or who simply requires the essentials with a dash of convenience and luxury as needed.
Living and Sleeping Area
During the day, the sofa couch serves as a key element of the entertainment room. With a soundbar and enough space for a large TV, you'll be able to enjoy all of your favorite shows while on the road.
When it comes to getting a good night's sleep, this rig offers a double bunk sleep area that can accommodate two youngsters on each bunk. The dining area, as well as the large sofa couch, can be converted into sleeping areas too.
There is also a bedroom with a queen-sized bed and walking space on both sides. The large windows provide magnificent views and the possibility to wake up with the sunrise.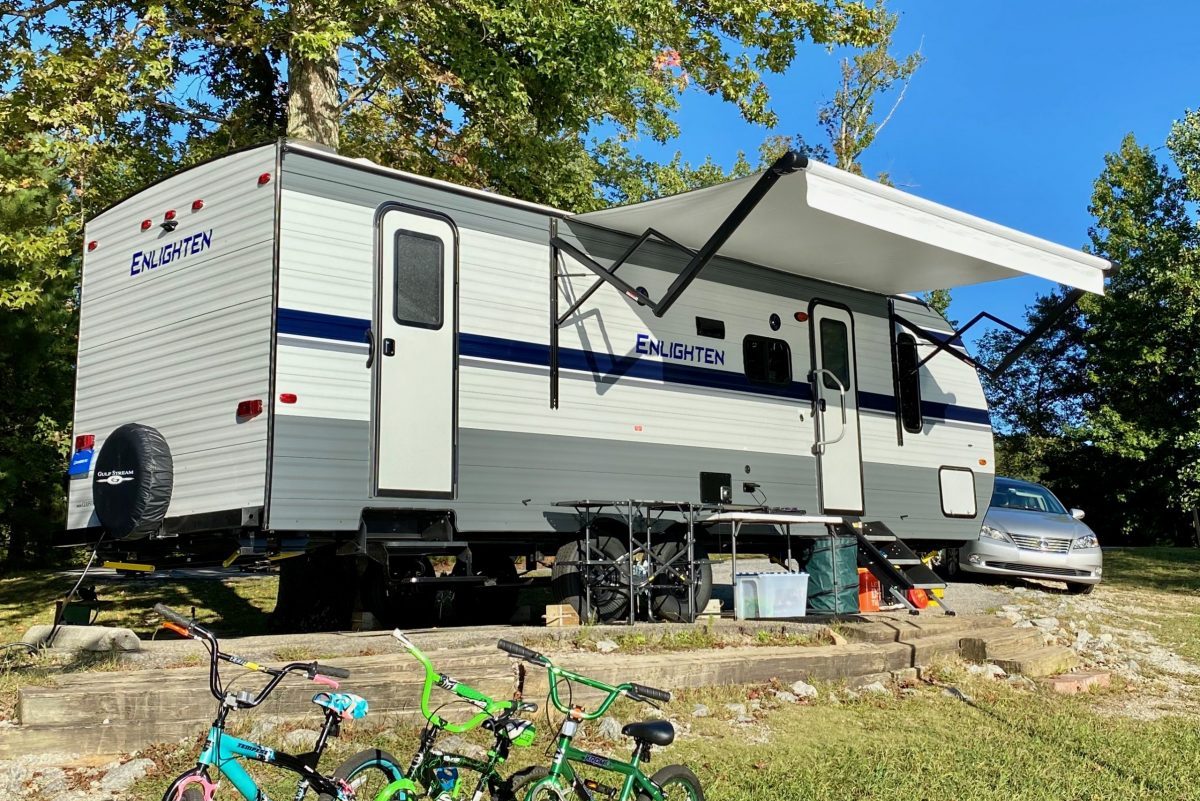 Bathroom
Don't be concerned about not being able to thoroughly clean yourself because this model includes a tub! This is unusual in mobile homes and RVs, and it's a lovely little treat if you're vacationing with a young child who hasn't yet perfected their own stand-up showering ritual.
Another significant advantage of the bathroom is the additional entrance. This makes quick restroom stops while exploring even more convenient. This bathroom also includes storage, including one with a medicine rack and under-sink space.
Kitchen
An L-shaped counter with a compact sink and twin hose faucet is featured in the kitchen. A two-door cabinet provides lots of storage space.
A microwave and a burner with an oven provide all you need to prepare quick meals or sit-down dinners. Furthermore, the large fridge has plenty of space for snacks.
A large storage pantry is located right next to the refrigerator. You can use it to store canned goods, clothing, shoes, or whatever else you may require for your weekend adventure.